Seed to Skin, True Organic Luxury Skincare, thanks to RICH NUTRIENTS and EFFECTIVE FORMULAS.
First thing first, our skin is the biggest organ in our body. It has unique structure and fascinating functionality, working as a border between environment and internal organs. It has also another important psychological role in building our self-confidence. Obviously, we always want to look healthy and young. However, we don't notice that every day our skin deals with numerous internal and external stress factors. Hence, if you want your skin to be healthy and look young year after year, it's essential to develop a habit of daily skincare routine.
Young brand from Tuscany revolutionizes the skincare and offers luxurious treatments.
Seed To Skin is a creation of a Danish couple, Jeanette and Claus Thottrup. The couple moved to Tuscany, Italy from London because they decided to redefine their lifestyle and create a spiritual place for reviving connections between body and mind. Now known as the Borgo Santo Pietro Boutique Hotel & Spa. Nowadays, guests could enjoy this luxurious Resort with a SPA, while discovering organic lifestyle at the Bio farm, beautiful gardens and farm-to-table restaurants. Some of which, among other things, are awarded with 1 Michelin Star. Furthermore, there are plenty of activities beyond Borgo, like Satori Luxury Yacht, gourmet wine tours, shopping in Florence and etc. Finally, the success of organic farming led Jeanette and Claus to developing luxury skincare line, handmade from natural ingredients and hold in effective formulas.
Good to know about Seed To Skin:
Above all, the skincare line contains only natural ingredients grown on company's certified organic farm or thoughtfully sourced from highly selective micro-producers world-wide.
Each formula has been researched and developed by Jeanette Thottrup and cosmetologist & pharmacist Anna Buonocore.
Anna and her team certainly found the most effective way to achieve visible results. Extracting molecules from active ingredients and targeting specific layers of the skin. Moreover, they integrate these nutrients into specially formulated emulsion that brings all components into deep layers without damaging natural barrier of the skin. In fact, if it has been already damaged, it would help to restore it.
Every step of production takes place in-house at the laboratory on-site at Borgo Santo Pietro to ensure highest quality control.
Besides, all products are free from toxins, parabens, synthetic preservatives, artificial fragrances and colours.
Seed To Skin tries to be as sustainable as possible. Hence, even the glass packaging could be used as a beautiful decorative vases afterwards.
Products & Results:
The Divine Cleanse – Dual Detox Marine Clay. A unique double cleansing emulsifying gel, containing detoxifying green clay, that controls inflammation and regenerates the cells. When you add some warm water, impressively, it transforms into a creamy milk for a double action cleanse.
The Clarity Cleanse – Resurfacing Enzyme Treatment. An enzymatic daily face wash that resurfaces the skin. It formulated with active enzymes and natural acids which break down dead skin cells. As a result, improving texture and minimising pores.
The Alche'Mist – a very active serum spray with a molecular delivery system, carries active ingredients into the deepest layers of your skin to activate a natural cell regeneration.
The Midnight Miracle – Cell Recovery Night Oil. This overnight repair oil, rich in Vitamins A and E to promote rapid skin turnover and cell regeneration.
The Cure – Molecular Cell Regeneration Complex. It is a light moisturising complex for both day and night with a system to deliver smaller molecules of active ingredients.
The Black Magic – Detoxifying Oxygen Therapy. A luxury detoxifying mask for oxygen boost and rejuvenation. Charcoal and volcanic clay, grapefruit seed extract and Salicylic acid deep clean and minimise pores as well as promotes natural collagen production.
So, these are just a few basic products, that I started my introduction of the brand with. You can always find more treatments for face and body on the Seed To Skin official website.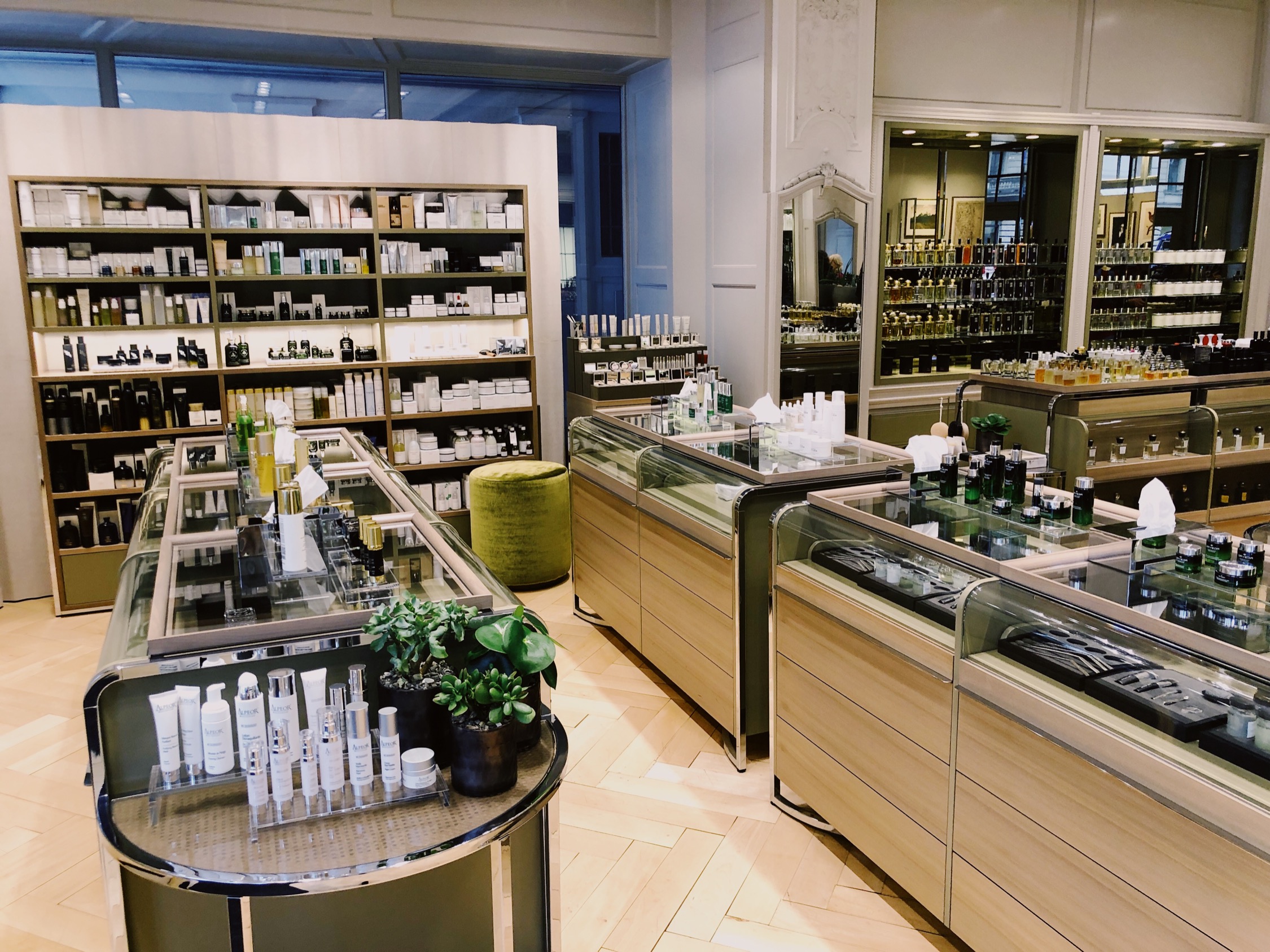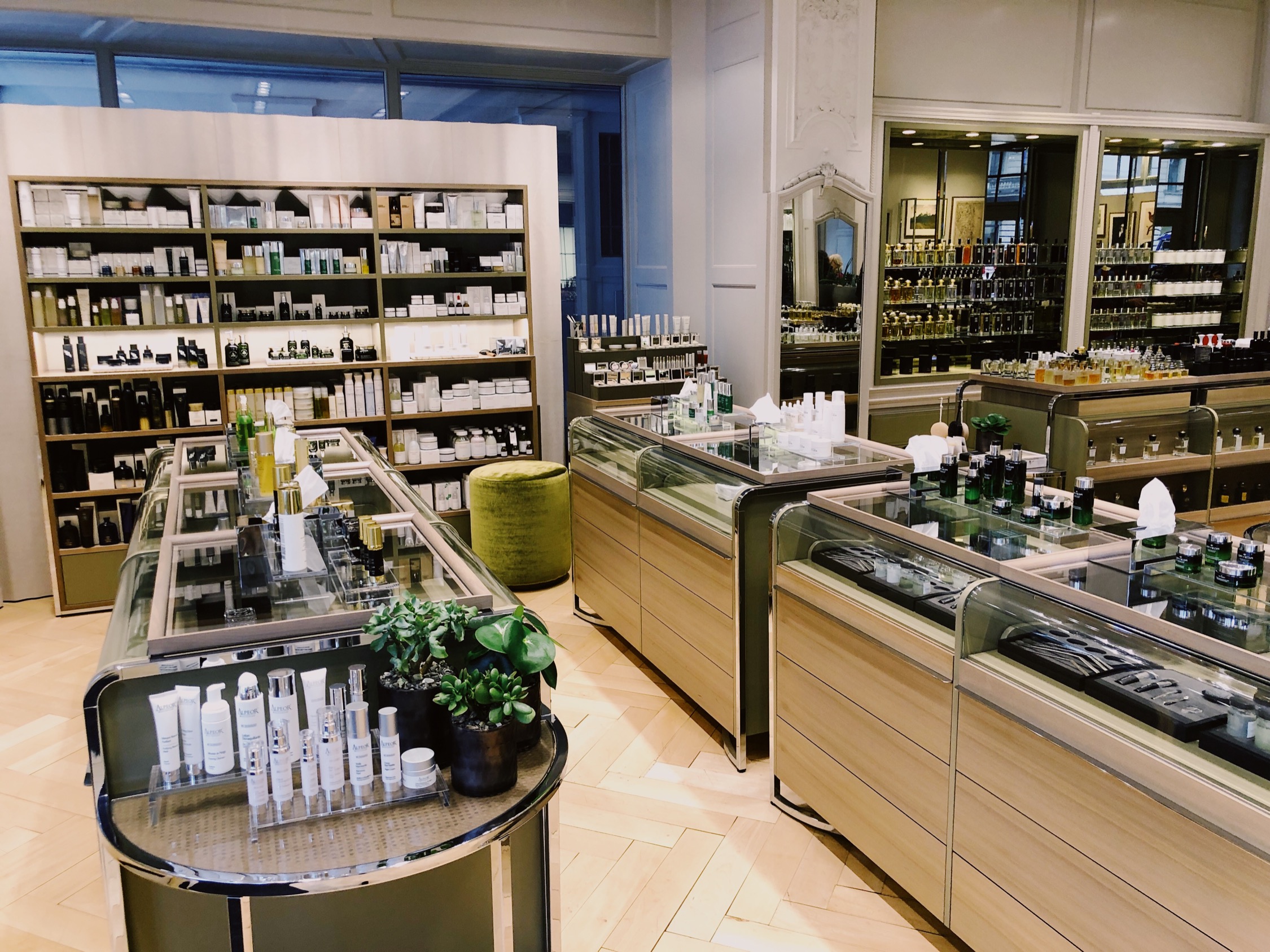 It is probably one of the best places in Zurich to buy exclusive beauty products. As 85% of brands not found anywhere else in Switzerland. In addition, it's located in the beautiful, carefully redesigned 1884 historical building in the heart of the city. Knowledgeable consultants would always kindly and professionally recommend the products that would suit your needs. Even more, the new edition of the Monocle magazine – "The Monocle Guide to the Shops, Kiosks and Markets", included the store to the list of 100 stores worth visiting worldwide. Therefore, if you still haven't been there, don't miss it next time you are in Zurich.
And as i like to say: GOOD CREAM TWICE A DAY, KEEPS A PLASTIC SURGEON AWAY! :)
Finally, if you have any questions, don't hesitate to contact me -> GET IN TOUCH.
BE HEALTHY AND WEALTHY! :)
Medical Disclaimer: This web site is not designed to, and does not, provide medical advice. All content, including text, graphics, images and information available on or through this Web site are for general informational purposes only. The Content is not intended to be a substitute for professional medical advice, diagnosis or treatment. You take full legal responsibility for whatever decisions you make regarding your own health care. This material is offered solely for educational purposes. Therefore, the suggestion is that you think clearly for yourself and make your own decisions, with the input of a licensed health professional should you choose to consult one.