A good hair day – it's an effortless styling in just a few minutes that lasts. The new BaByliss Curl Styler Luxe with its innovative cool-air technology makes it so easy and fast.
I usually use hair straighteners to create different curls and waves. Some are better than others, depends on the style I want to create and the hair length at the moment. This new styler, however, is a game changer for easiness and swiftness. It uses the mix of air and heat to create long-lasting glamorous loose waves in no time at all.
My morning hair routine, using this styler, usually takes only 10 minutes. Also, it lasts not just all day long, but basically until next hair-washing. In the IGTV video, you can also find my twist on a ponytail. I make it when my hair is getting messy, or if I want to have more gathered style.
Good to know about BaByliss Curl Styler Luxe:
Thanks to a split-barrel design and a large 36 mm rod diameter, the styler preheats the hair and easily forms soft loose waves.
The cool-air technology, that runs through the channels, sets the curl instantly for lasting results. However, if you want, you can always switch this function off.
The quartz-ceramic plates provide smooth glide without pulls or crimps.
3 heat settings, 160°C, 180°C and 200°C for use on all hair types.
In addition, you can use it as a straightener.
Finally, the styler is compact and light, which makes it perfect for travelling.
The price for BaByliss Curl Styler Luxe in Switzerland is around 109 CHF.
Styling tips:
For the best results, style your hair when it's clean, dry and combed.
For uniformed soft curls, glide the device holding vertically, the cool tips looking downwards (you can see how I hold it in the video).
If you want to make loose beach-like curls: take medium size hair sections, turn the styler no more then 180 degrees and release the appliance from the hair couple of centimetres before reaching the ends of the hair.
Smaller hair section will result in tighter curls. And the other way around, the larger the hair strands the looser the curls.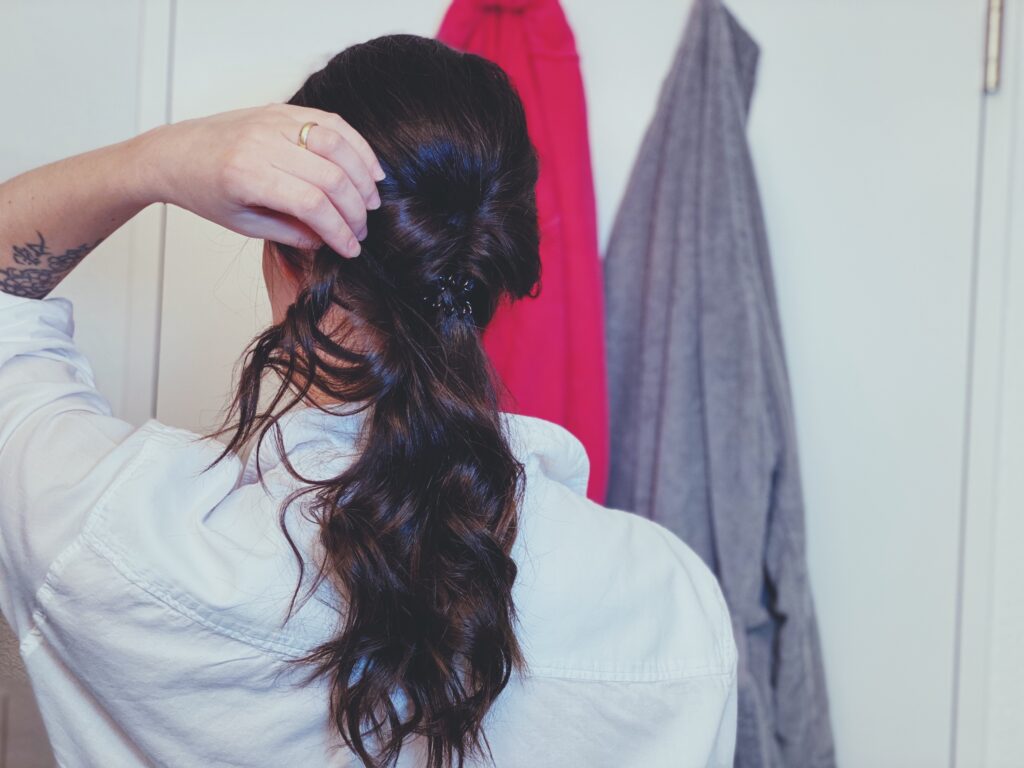 Looking good – Feeling Good
Working at home has changed our routine and habits. For awhile, my daily hair has been "The Big Bun Theory"!:) However, I did notice that when my hair is done, as well as all other self-care routines, I feel much better, more motivated and productive. That is good enough reason for me to discipline and turn things around.
Share your favourite hair styles in the comments below. Also, let us know, if you like this short tutorial video that we prepared. Perhaps, you'd prefer a longer explanatory video.
Finally, if you have any questions, don't hesitate to contact me -> GET IN TOUCH.
Be healthy and wealthy! :)