Pumpkin Risotto is certainly in the category of the best seasonal comfort foods. Risotto as is a super diverse dish. You can basically cook it with any veggies you like and it will always be amazing. However, we benefit the most from seasonal ingredients, so while it is still a pumpkin season, this type of risotto is particularly good.
GOOD TO KNOW:
There are different types of risotto rice. The most popular are Arborio, Carnaroli and Vialone Nano. Use the one you can find, or the one you like.
DO NOT wash the risotto rice.
INGREDIENTS (3-4 PORTIONS):
Rice (I use Carnaroli) – 1 glass (~250 g)
Pumpkin or butternut squash – 1 small
Onion (I use Shallot) – 1 pcs
Butter – 60 g
Garlic – 1 clove
Dry White Wine – 150 ml. Any good quality dry white wine would work perfectly. However, I also love cooking risotto with more sweeten white wine, like Muscat de Rivesaltes. It is a sweet wine with a delicate lemony-honey notes, really elevates all flavours and brings them together. Let me know in the comments below, if you try it.
Stock (I use vegetable stock) – around 1 litres, the amount may vary
Parmesan cheese – 60 g
Olive oil – 2 tbsp
Ground nutmeg – a pinch
Salt and pepper to taste
COOKING METHOD:
1. Finely grate the Parmesan cheese and put it aside.
2. Cut half of the butter (30 g) into small cubes and keep it in the fridge until needed.
3. Carefully peel the pumpkin, cut it in half and scrape out the seeds. Chop it into small cubes.
4. Cook your vegetable stock using any veggies you have, like carrots, celery and onion. Obviously, it's always good to cook your own stock, however, in order to save time, sometimes I use bouillon cubes. If you are also short on time, just bring 1 litre of water to boil and add 1 bouillon cube. Just make sure that it is a good quality one.
NB! Keep your broth very hot, almost boiled.
5. Preheat a medium size pan. Add the olive oil and diced pumpkin. Cook on a medium-high heat for 5 min, stirring regularly. Then add the black pepper and ground nutmeg, turn the heat to low, and cook further 5 min. Remove from the heat and add a pinch of salt.
6. Finely chop the onion. Smash the garlic with the flat side of the knife and remove the paper-skin.
7. In the separate pan, melt the remain butter (30 g) over the low heat and add your chopped onions. Cook it for approximately 5 minutes. Then add the garlic and cook further for 5 min until the onion is soft and transparent, but not coloured. Remove the garlic as it's used only for aroma.
8. Add the rice and turn up the heat to medium-high – the rice will begin to fry, so keep stirring it. After 1 minute it will look slightly translucent and starts absorbing the butter. Now, add the wine and keep stirring (we can already call this risotto incredible, that's how it will smell when you add the wine! :)). Do not worry alcohol will evaporate, leaving only fantastic notes of flavours.
9. Once the wine has cooked into rice, add the first ladle of hot bouillon. Turn the heat to medium-low so the rice doesn't cook too quickly. Keep adding ladles of bouillon, stirring. Allow each ladle to be absorbed before adding the next one. After 10 minutes add your cooked pumpkin. Carry on adding bouillon until the rice is soft, but still has a slight bite in it. Don't forget to check seasoning, but carefully, remember you will late add the Parmesan and it is salty. If you run out of stock before the rice is cooked, add some boiling water. Usually, it takes around 18 min for rice to be ready from the moment it was added into the pan, however, the time may vary. Taste the rice to understand when it is perfect.
10. Finally, remove the pan from the heat, add the butter (30 g) from the fridge as well as the grated Parmesan cheese. Stir well. Place the lid on the pan and allow your risotto to rest for 2 minutes – this is the most important part of making your risotto perfectly creamy!
12. Serve it immediately and enjoy your incredibly delicious pumpkin risotto!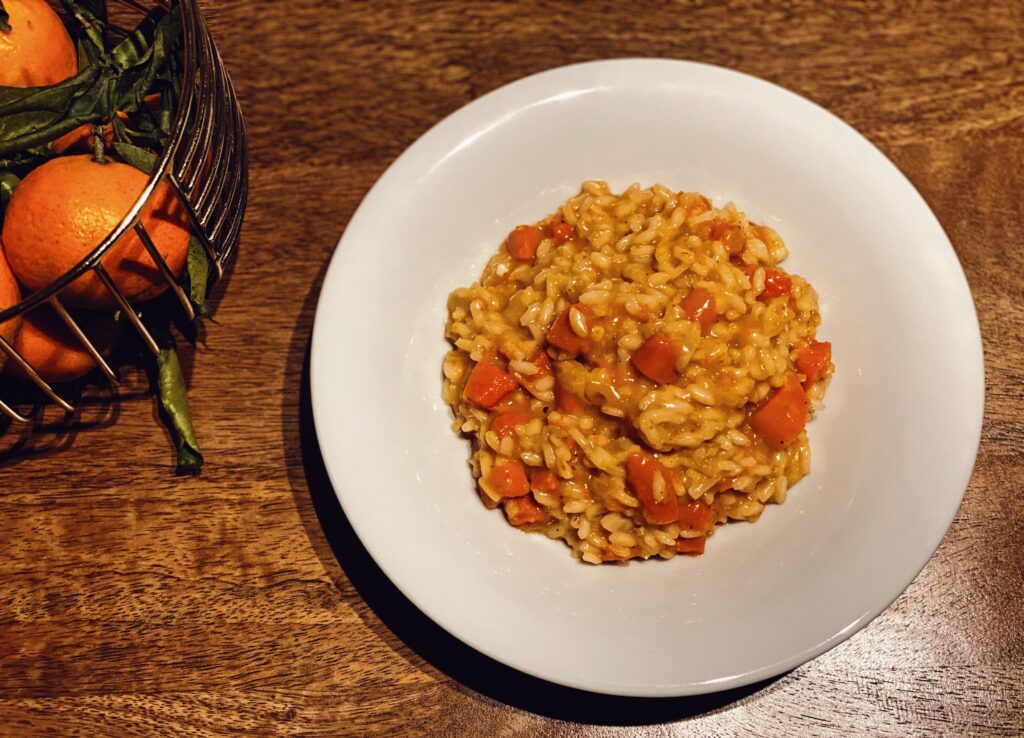 As you can see, the fundamental steps of the recipe are always the same. We can, however, change flavours using different veggies, wines or even meats and seafood.
Also, check out our recipe for mushroom risotto -> EASY AND DELICIOUS CREAMY MUSHROOM RISOTTO
Finally, if you have any questions, don't hesitate to contact us -> GET IN TOUCH.
BON APPETITE!
BE HEATHY AND WEALTHY! :)