Spitzbuben is a delicious little festive treat with rich buttery flavours and its signature cut-out-centre with refreshing red currant jam. A perfect cookie has a delicate buttery texture with elegant notes of almonds and a fresh red current feeling.
Ingredients:
Flour – 300 g, plus extra for dusting
A pinch of salt
Ground almonds – 100 g
Powdered sugar – 150 g
Butter at room temperature (regular or lactose-free) – 200 g
Egg – 1
Vanilla paste – 1/2 tsp
Lemon Zest – 1 tsp
Red currant jam
Method:
Firstly, sift the flour, salt and powdered sugar into a big bowl.
Now add the rest of the ingredients: ground almonds, butter, vanilla paste and an egg.
Knead everything together with a hand mixer for 1-2 minutes, then form a smooth dough with your hands.
Shape the dough into a big pancake-like shape, wrap it in cling film, and let it chill in the fridge for 2 hours.
Preheat the oven to 180 °C.
Cut half of the dough, work with one half and keep the other half in the fridge. Take the dough out from the refrigerator a few minutes before rolling it to make it easier to work.
Next, dust the surface with flour and roll out the dough until it is around 3 mm thin.
Now is the funniest part, cut out the cookies and make that signature Spitzbuben shape. Make festive motives cut-outs in half of them. However, if you don't have a cookie form, you can use small objects from apple cutter to cocktail straw to poke 1-3 holes.
Carefully place your cookies on the baking tray lined with baking paper. Bake them on the middle shelf of the oven for 10-12 minutes until they are lightly golden. Keep an eye on them so they don't burn.
While the cookies are still warm, put a little bit of jam in the middle of the unperforated cookies. Now, place one cut out cookie and press down slightly.
Let your cookies cool down completely and dust with powdered sugar.
Enjoy this winter season with homemade Spitzbuben!
If you like this recipe, please put a rating on the top of this page.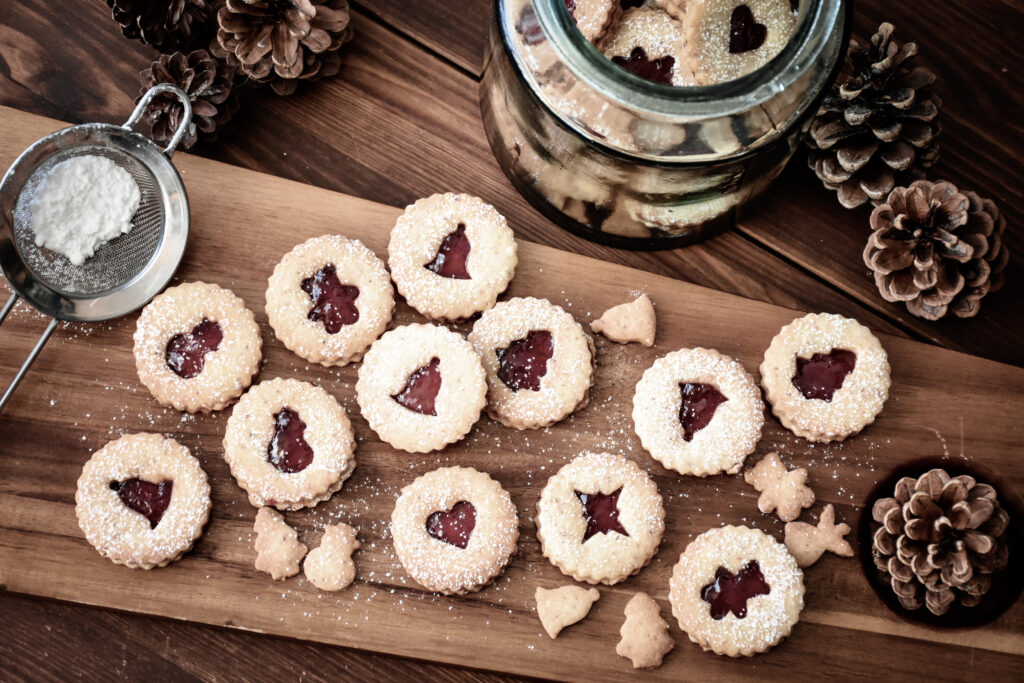 Also, share your favourite holiday treats in the comment box below.
You may also be interested in other desserts recipes that we have:
-> SHORTBREAD COOKIES CHRISTMAS RECIPE – SPECIAL TREAT FOR THE FESTIVE SEASON
-> THE BEST CHEESECAKE RECIPE, WORKS PERFECTLY WITH LACTOSE-FREE INGREDIENTS
-> APPLE CHARLOTTE – WARM AROMATIC AUTUMN DESSERT
Finally, if you have any questions, don't hesitate to contact us -> GET IN TOUCH.
Bon Appetite!
Be healthy and wealthy! :)