Apple Charlotte is a warm aromatic autumn cake. Using seasonal apples, it is one of the most comforting desserts to enjoy during cold fall days. The charlotte is also one of the easiest and quick cooking desserts.
Ingredients FOR ⌀18CM FORM:
Eggs – 2 large, free range
Sugar – 1/2 cup (~ 115 g)
Vanilla extract – 1/2 tsp
Flour – 1/2 cup (~90 g) + for dusting
Baking powder – 1/2 tsp
Apples – 2 small or 1 medium size
Butter – for greasing (~1 tsp)
COOKING METHOD:
1. Firstly, Preheat the oven to 180˚C/ 355˚F.
2. Start with beating the sugar and the eggs with a stand- or hand-mixer until very light and fluffy. Add the vanilla extract to the batter and mix well together.
3. In a separate bowl, sift the flour and the baking powder.
4. Carefully fold the flour (in small portions to avoid lumps) to the eggs-sugar mix. Stir slow from the bottom up with a spatula or with a mixer at the slowest speed, not longer than a minute.
5. Wash the apples, cut them in half and remove the pits. Cut the apple into thin slices.
6. Grease 18 cm cake-tin with the butter and dust lightly with some flour. You can also use a baking spray for greasing the form.
7. Pour half of the cake mixture into the cake tin, put an even layer of apples and pour the rest of the batter over the apples.
8. Bake in the oven (middle shelf) for 25-30 minutes.
Notes:
1. Don't open the oven first 20 min. Otherwise, the cake might sink in the middle.
2. Insert a toothpick into the centre of the cake after 25 min – if it comes out clean and dry, the cake is ready. If not – just bake for a further 5 min.
3. If you are using a bigger size cake tin, just double the ingredients.
Enjoy your aromatic Apple Charlotte with a cup of milk or tea.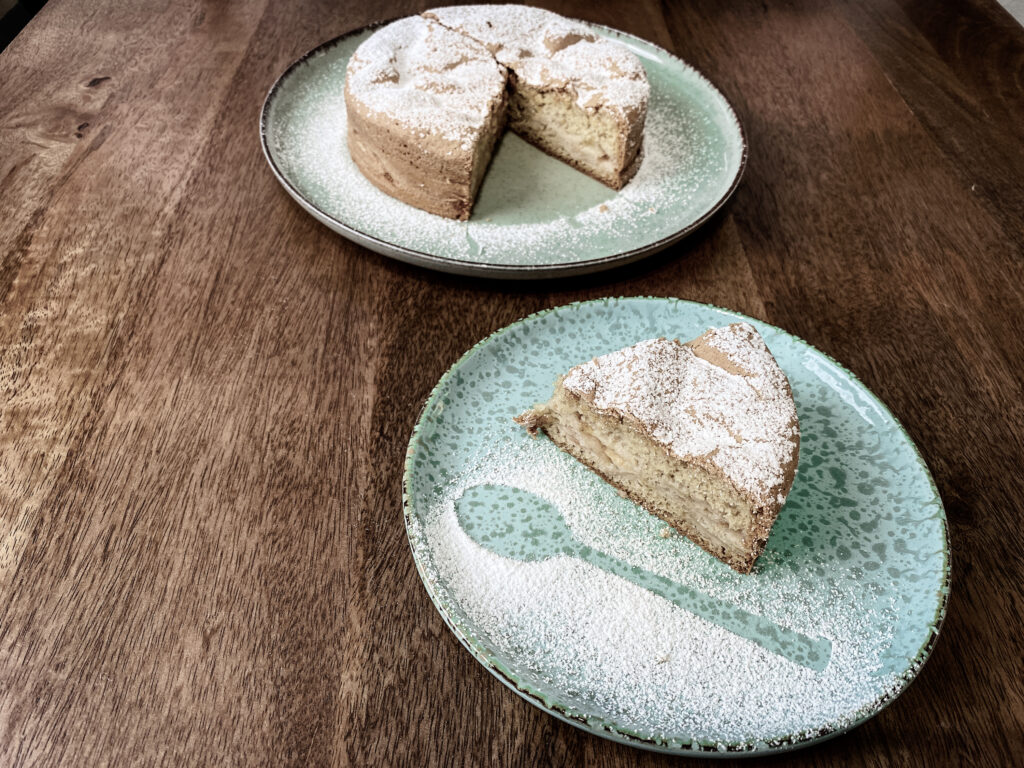 BON APPETIT! :)
Be healthy and wealthy!