Pumpkin soup is everyone's favourite comfort food. It's simple, delicious and nutritious. You can even take it with you to a fall/winter picnic as it pairs well with any dishes and drinks. Serve it with velvety cream, rich truffle croutons or roasted pumpkin seeds to highlight this beautiful fruit.
Ingredients:
Pumpkin – 1 medium size
Sweet Potatoes – 1 medium size
Onion (I usually use shallot for its delicate flavour) – 1 pcs, medium size
Hot water – around 1,5 l
Cinnamon – 1/4 tsp
Nutmeg – 1/4 tsp
Olive oil – 2 tbsp
Butter (regular or lactose-free) – 1 tbsp
Salt and black pepper to taste
Half and half cream (regular or lactose-free) – to taste
Cooking Method for Pumpkin Soup:
Clean and peel all the vegetables. I use a good old sharp vegetable peeler to peel pumpkins. Firstly, I carefully cut the edges, peel the top half, turn it around and peel the other half. Carefully cut the pumpkin in half and deseed it using a tablespoon. When it all nice and clean, cut the pumpkin and the sweet potatoes into rough pieces.
Put a cooking pot on medium heat, add the olive oil and a knob of butter.
Chop the onion and add it to the pot. Stir regularly.
After 2-3 min. add the diced pumpkin and sweet potatoes.
Cook for a couple of minutes, stirring regularly. Then add the salt, black pepper, cinnamon and nutmeg.
Finally, add hot water. The amount of liquid should be enough to cover all the vegetables and even sit a bit above them. Cook for around 15-20 minutes on medium heat, or until the pumpkin is very tender.
Using an immersion blender, puree the soup to a smooth creamy consistency. Taste it, adjust seasoning and thickness to your liking. If it is too thick, simply add a bit of hot water to loosen it up.
Bring it again to boil and remove from the heat.
For Truffle Croutons:
Preheat the oven to 190°C / 375°F / 5 gas.
Cut the bread into small cubes. Also, it is a great way to use stale or leftover bread.
Drizzle with some olive oil, season with a pinch of salt and pepper.
Toast for 5-10 minutes on the middle shelf of the oven. Also, shuffle from time to time, so your croutons would be nice and golden from every side.
Remove them from the oven, drizzle with the truffle oil and leave to cool down. Indeed, the truffle oil brings a luxurious pinch. However, this oil is very aromatic, so more is less. A few drops will be more than enough. Also, no worries, if you don't have truffle oil, you can switch it to any other oil you like.
While serving, add a swirl of cream and truffles croutons to the bowl.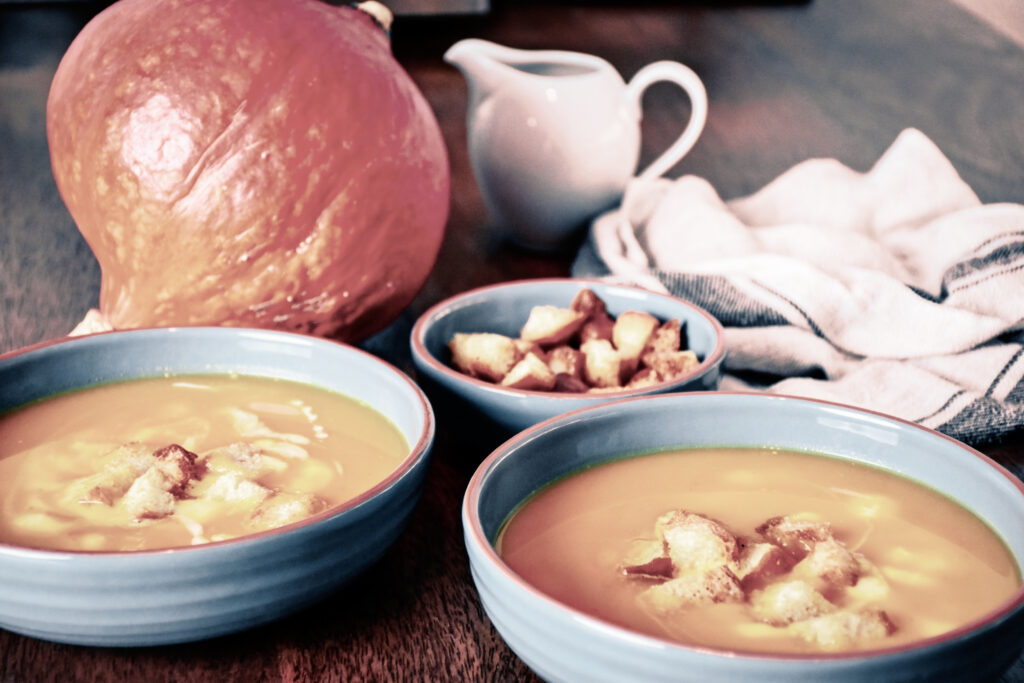 You can also put it into a thermos to take this delicious aromatic soup to a picnic!
Finally, if you have any questions, don't hesitate to contact us -> GET IN TOUCH.
Be healthy and wealthy!