Pumpkin soup is a favourite comfort food for many, especially during the chilly fall season. Its simplicity, combined with its delicious and nutritious profile, makes it a must-try. Whether you're cosying up at home or planning a fall/winter picnic, this creamy pumpkin soup, paired with luxurious truffle croutons, will surely be a hit.
Ingredients:
Pumpkin – 1 medium size
Sweet Potatoes – 1 medium size
Onion (I usually use shallot for its delicate flavour) – 1 pcs, medium size
Hot water – around 1,5 l
Cinnamon – 1/4 tsp
Nutmeg – 1/4 tsp
Olive oil – 2 tbsp
Butter (regular or lactose-free) – 1 tbsp
Salt and black pepper to taste
Half and half cream (regular or lactose-free) – to taste
Cooking Method for Pumpkin Soup:
Begin by cleaning and peeling all the vegetables. A sharp vegetable peeler works best for pumpkins. Carefully trim the edges, peel the top half, flip it, and then peel the bottom half. Slice the pumpkin in half and use a tablespoon to remove the seeds. Once cleaned, chop the pumpkin and sweet potatoes into rough pieces.
Place a cooking pot on medium heat, adding both the olive oil and a knob of butter.
Dice the onion and introduce it to the pot, ensuring regular stirring.
After about 2-3 minutes, incorporate the diced pumpkin and sweet potatoes.
Cook for a few minutes, stirring occasionally. Proceed to season with salt, black pepper, cinnamon, and nutmeg.
Pour in hot water, ensuring the liquid covers all the vegetables and even sits slightly above them. Allow to cook for approximately 15-20 minutes on medium heat, or until the pumpkin turns tender.
Use an immersion blender to puree the soup, achieving a smooth and creamy texture. Taste and adjust the seasoning and consistency as desired. If the soup is too thick, a splash of hot water would help.
Bring the soup to a boil once more before removing it from the heat.
For Truffle Croutons:
Preheat your oven to 190°C / 375°F / 5 gas.
Dice the bread into small cubes. This is an excellent opportunity to utilize stale or leftover bread.
Drizzle the bread with olive oil and season with a pinch of salt and pepper.
Toast for 5-10 minutes on the oven's middle shelf, ensuring you shuffle the bread occasionally for an even golden color.
Once toasted, drizzle with truffle oil and allow to cool. The truffle oil adds a luxurious touch, but remember, a little goes a long way. If truffle oil isn't available, any preferred oil can be a substitute.
When serving, garnish the soup with a swirl of cream and the truffle croutons. For those on the go, consider pouring this aromatic soup into a thermos for a delightful picnic treat.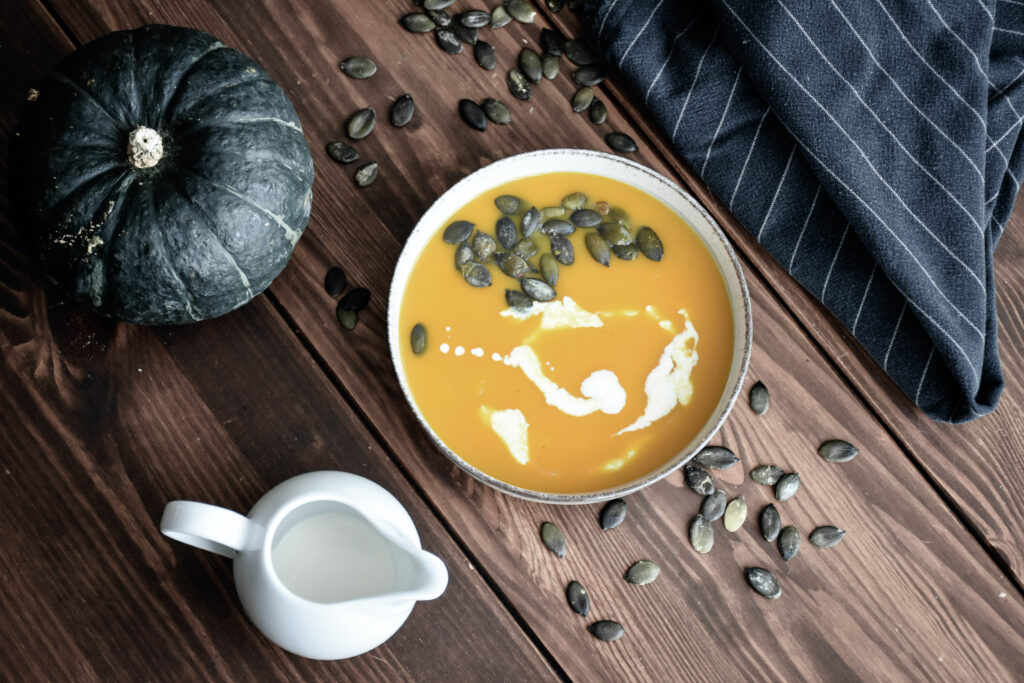 We'd love to hear your thoughts on this recipe! If you tried it and loved it, please share this article with your friends and family, and don't forget to leave a comment below with your experience and any variations you might have added.
If you have any questions, don't hesitate to GET IN TOUCH.
Be healthy and wealthy!