Nestled in the heart of Switzerland, the Aare Gorge (Aareschlucht) stands as a testament to nature's power and beauty. Stretching 1400 m in length and plunging 200 m deep, this roaring gorge narrows down to a mere 1–2 m in some sections.
A Journey Through Time
For millennia, the relentless River Aare has sculpted its path through limestone, crafting the breathtaking Aare Gorge we see today. The geology of this place is a marvel, with rock formations that have witnessed millions of years, surviving ice ages and melting periods.
But nature isn't the only architect here. The human touch is evident in the meticulously engineered tunnels and bridges. Constructed in 1887, the walkway has welcomed visitors since 1889, offering them a glimpse into this geological wonder.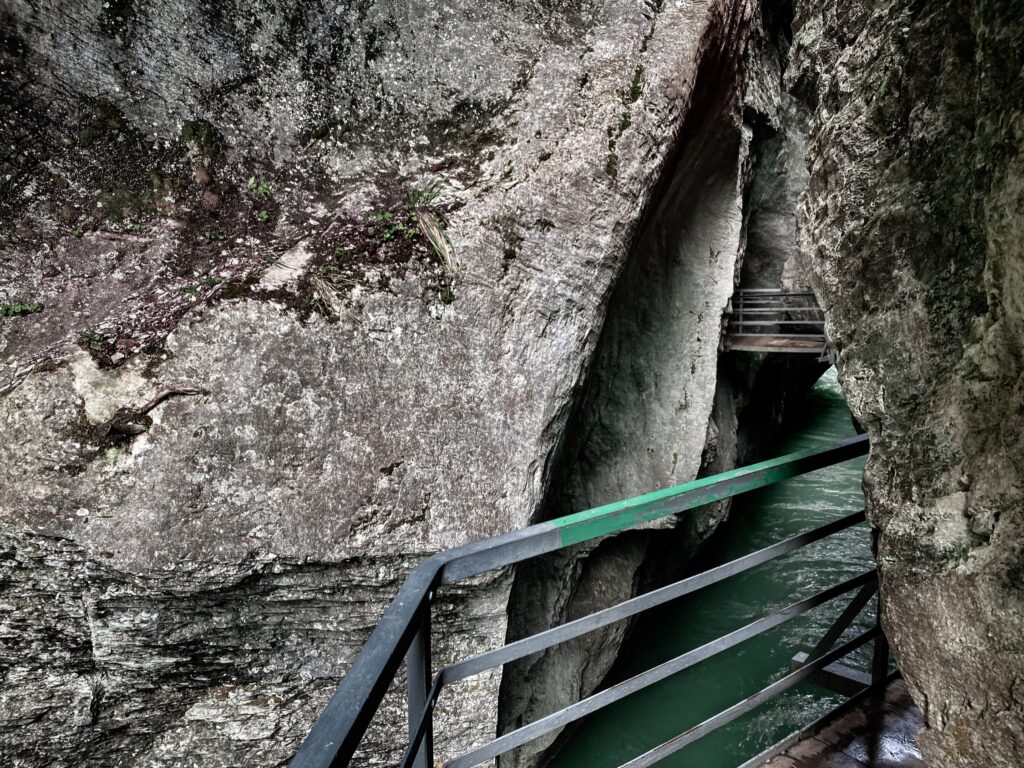 Experience the Aare Gorge Walk
Embark on an exhilarating 45-minute walk through the narrow passages flanked by the towering "Kirchet" cliffs. For those in a hurry, a train ride back takes just a few minutes. Alternatively, retrace your steps and soak in the beauty once more.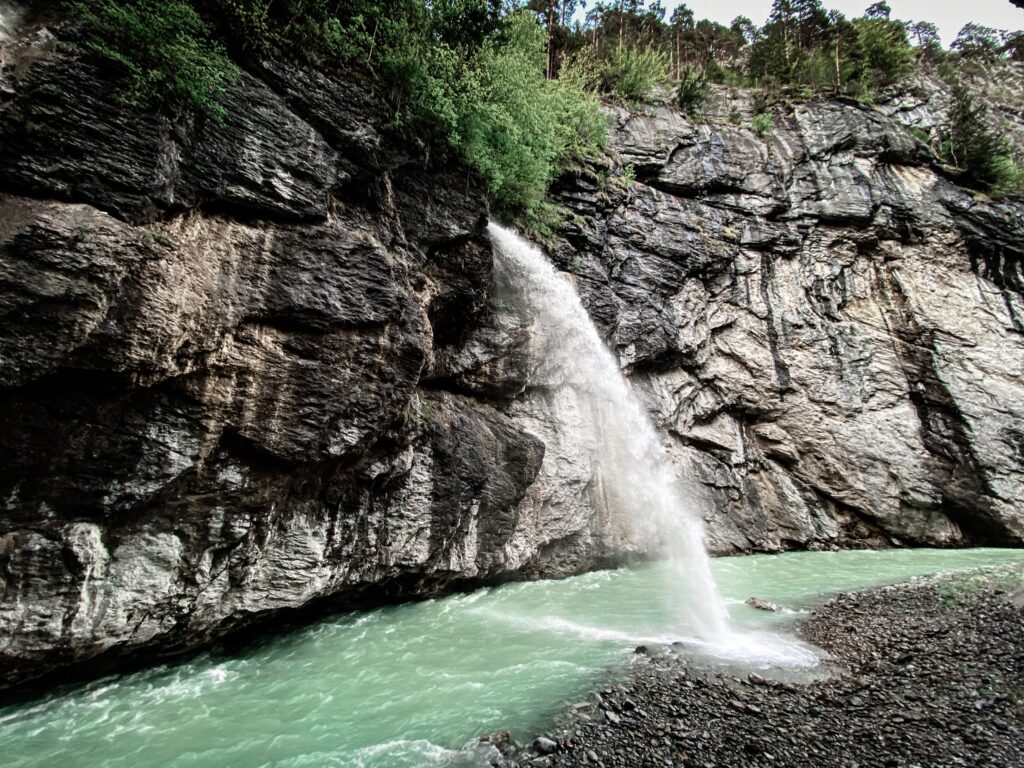 Essential Travel Tips for Aare Gorge:
The Aare Gorge is located in the Hasli Valley in the eastern Bernese Oberland.
The gorge has two entrances – Aareschlucht West Entrance (in Meiringen) and Aareschlucht East Entrance (in Innertkirchen).
Getting to the Aareschlucht West Entrance:

By train: Zurich HB – Meiringen, Bahnhof. Then a bus #164 direction Schwarzwaldalp until Wiligen, Dorf. The road would take around 2 h 30 min.
By car: the road would take approximately 1 h 30 min. You can check the road map below.
There are parking spaces at the Aareschlucht West car park, free of charge.
Opening Hours:

02.04 – 11.06.2021 8:30 am to 5:30 pm
12.06 – 12.09.2021 8:30 am to 6:30 pm
13.09 – 01.11.2021 8:30 am to 5:30 pm.

Evening opening hours: Fridays and Saturdays between July and August, from 6:30 pm to 10 pm (access from the west entrance)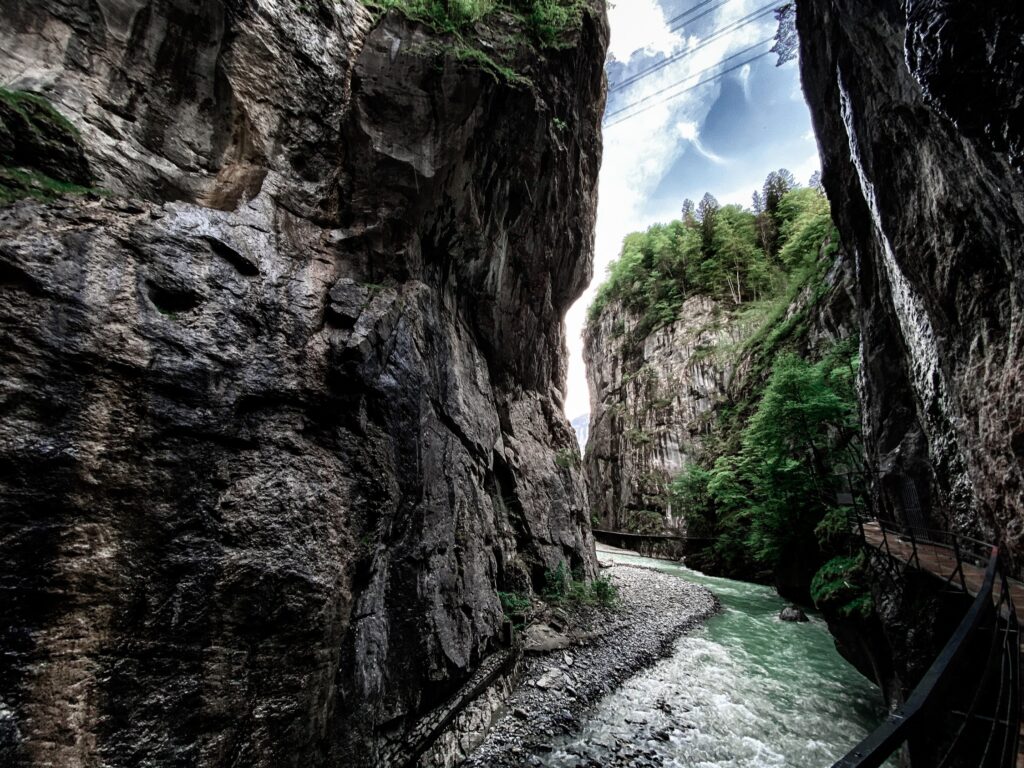 Prices:

Adults – CHF 10.00
Children (6 – 16 years) – CHF 6.00
Children under 6 years – free
Check the official website for discounts and special offers, including combined tickets with a visit to Reichenbach Falls.
Enhance Your Visit
Pair your Aare Gorge adventure with a trip to the world-renowned Reichenbach Falls, the backdrop for Sherlock Holmes' epic confrontation with Professor Moriarty.
Preparation Tips: The gorge's tunnels can be wet and cool. Waterproof or hiking shoes and a light jacket are recommended.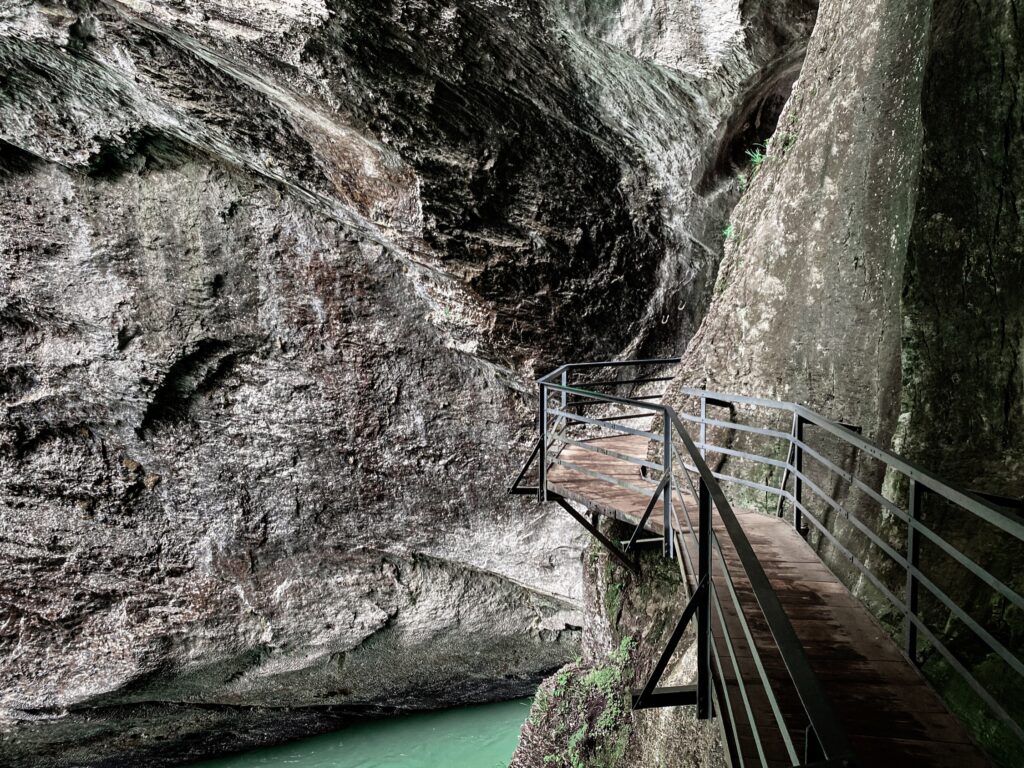 A Perfect Retreat for Every Season
Whether you're seeking refuge from the summer heat or looking for a dramatic rainy day adventure, Aareschlucht promises a unique experience. The ambiance, reminiscent of scenes from the Pirates of the Caribbean, with water cascading over rocks and echoing through tunnels, adds to its mystique.
Why Visit Aare Gorge?
A product of both nature's might and human ingenuity, the Aare Gorge stands as one of Switzerland's must-visit destinations. And while you're in the area, don't miss the world-famous Reichenbach Falls.
If you're looking to explore more natural wonders in Switzerland, the St. Beatus Caves article offers another captivating destination.
Liked our guide? Share it with fellow travellers and leave a comment below about your Aare Gorge experience!
BE HEALTHY AND WEALTHY! :)