Jungfraujoch – Top of Europe, is an iconic Swiss experience and one of the biggest highlights for anyone traveling in Switzerland
Built between 1896 and 1912, Jungfrau Railway is the Europe's highest-altitude railway station, located at 3454 metres a.s.l. It is also the part of the UNESCO World Heritage site "Swiss Alps Jungfrau-Aletsch".
Swiss businessman Adolf Guyer-Zeller had an incredible idea of blasting a tunnel right through the rock of the Eiger and Mönch mountains all the way to the top of Jungfraujoch. This ambitious construction took long 16 years and as much as 16 million francs. When, finally, on August 1st, 1912 the Europe's highest railway was opened at the altitude of 3454 m. Tragically, the "railway king" passed away in 1899, and never could admire the outcome. However, his legacy lives and even today, more than 100 years later this project fascinates with its complexity and precision.
Good to know:
The word "Jungfraujoch" means "saddle", it connects the two 4000 peaks Jungfrau and Mönch, in the Bernese Alps.
The Jungfrau Railway is open year-round.
Getting there: Via Grindelwald – Kleine Scheidegg or via Lauterbrunnen – Kleine Scheidegg, then by cog railway Kleine Scheidegg – Jungfraujoch. If you are travelling by car, you can park in Grindelwald or Lauterbrunnen.
You may find the current timetables on the official website.
Plan one whole day for visiting Jungfraujoch.
It takes quite some time to reach the summit. For example, from Zurich by train the trip will take approximately 4 hours. For that reason, make your ticket reservations in advance and start your journey as early as possible.
You will need warm clothes and shoes. Even in summer, you would find lots of snow at the summit and the temperature would be around 0 outside and -3 in the ice palace.
All the attractions except the Snow Fun Park are included in the ticket.
Also, in the current situation with COVID-19, it's important to stay safe and be responsible, so don't forget your face mask.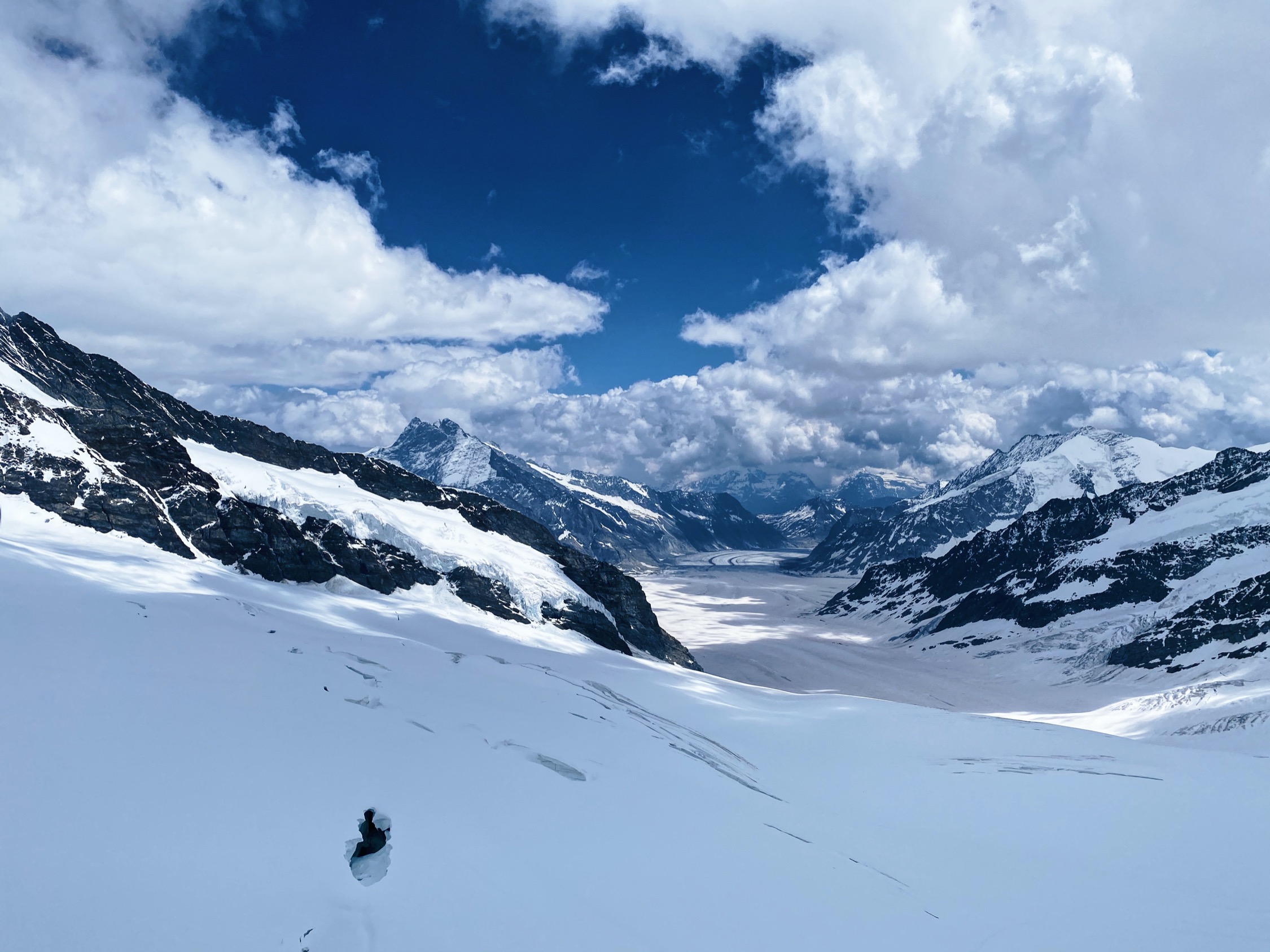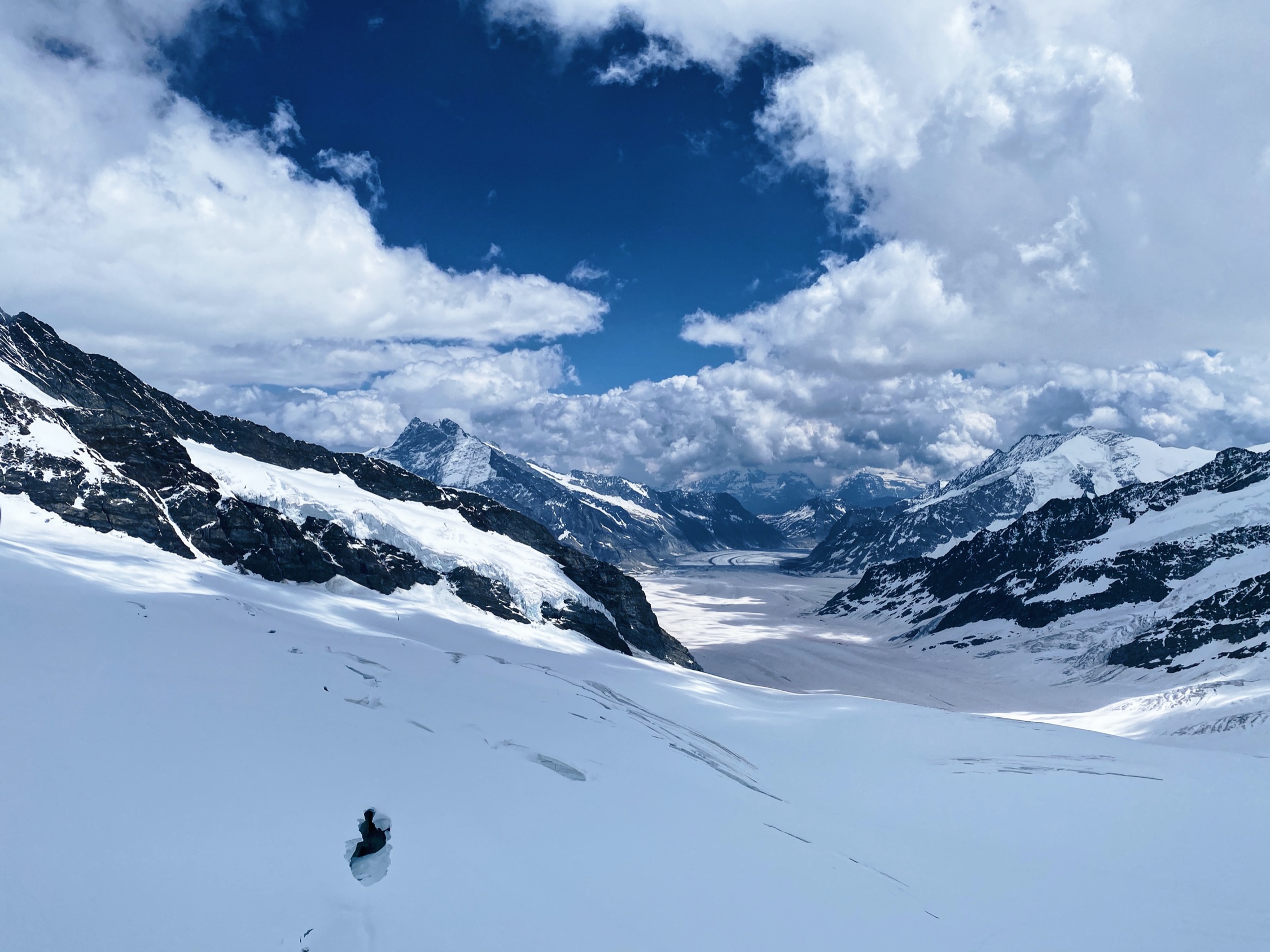 memories and experience are priceless
Visiting Jungfraujoch is quite expensive, but we all know that nothing is cheap in Switzerland. Just imagine how much it costs to operate and maintain the place like this. For example, every week a railway employee checks the 9.2 km-long track between the Jungfraujoch and Kleine Scheidegg on foot! And, most of all, our memories and experience are priceless. However, every now and then there are promotions for this exclusive destination. So while planning your trip, check Coop, Migros and SBB websites for those special offers.
Attractions on Jungfraujoch:
Upon arrival to the Jungfraujoch train station, simply follow the "Tour " symbol and you won't miss any highlights on Top of Europe.
Switzerland's fastest lift will carry you up 108 metres in just 25 seconds to the viewing platform, Sphinx Terrace, from where a breathtaking panorama over the Aletsch Glacier and Alps reveals itself. Surprisingly, you will find beautiful small birds even that high in the mountains. In fact, Alpine Chough may nest at a higher altitude than any other bird. Enjoy the view and energy of nature!
Mountain guides created the corridors and halls in the heart of the Jungfraujoch in the 1930s using ice picks and saws. Today, artists create and display shimmering ice sculptures and art works in this sensational palace.
On the way to the top, the train will have a short 5 minutes stop at Eismeer. Enough time to hop off the train and take a memorable photo of the panorama of eternal snow and ice blocks, that are hundreds of thousands years old.
Unique opportunity to ski and sledge on the Aletsch Glacier, winter fun in summer!
The Alpine Sensation tour shows the extreme effort and dedication during the construction of Jungfrau Railway as well as the past and present of tourism and exploration in the region.
The highest-altitude chocolate shop in Europe and the highest-altitude watch shop in the world
Special shopping experience at Top of Europe. Lindt Chocolate Shop invites to discover the secrets of Swiss chocolate and find your favourite sweet sensations.
You will also find a wide selection of Swiss made products, including watches and memorable souvenirs.
New V-Cableway will start operating in December 2020
The ambitious V-Bahn project is the most innovative modern construction in the Alps. From a new terminal in Grindelwald one tricable gondola will lift to the Eiger glacier and another new 10-seater gondola will lift to the Männlichen. Both rides offer amazing views and reduced travel times. For example, it will allow to reach the Jungfraujoch 47 minutes faster. The cableway will be completed and start operating from December 2020. Can't wait to try it out! :)
There are so many beautiful places in Switzerland. However, Jungfraujoch has a very special atmosphere and offers that iconic Swiss experience, for locals and guests alike.
You are also welcome to share your experience in the comments below.
You may also be interested in the travel tips for stunning Männlichen -> ROYAL WALK, MÄNNLICHEN
Finally, if you have any questions, don't hesitate to contact me -> GET IN TOUCH.
Be healthy and wealthy! :)