New Oculus Quest 2 is a great stay-fit-at-home solution during the pandemic. This new standalone VR headset has been an alternative to my usual workout routine for a couple of months now. And I must say, my experience with Oculus has been nothing but a joy. I love playing fitness games that help to stay active in a fun, jolly way.
Sport is not just about weight loss, but, most importantly, about physical and emotional declutter
So, the launch of the new Oculus in October 2020 made me really excited. Below you will find my review on this new VR device, important features and must-have accessories. Also, have a sneak peek at one of the games through the video below.
Some of my sport-favourites on Quest 2 are FitXR, which has boxing and dancing fitness, Beat Saber, Mini Golf and Racket Nx.
Owned by Facebook, Oculus is one of the best standalone headsets on the market.
Truly, the first generation of Quest was a groundbreaking headset, even though it was heavy and far from comfortable. Still, I've played with it with great enthusiasm and childlike interest for a while. Oculus Quest 2 has all the fun from the first version, but with a more comfortable headset, lighter weight and improved screen.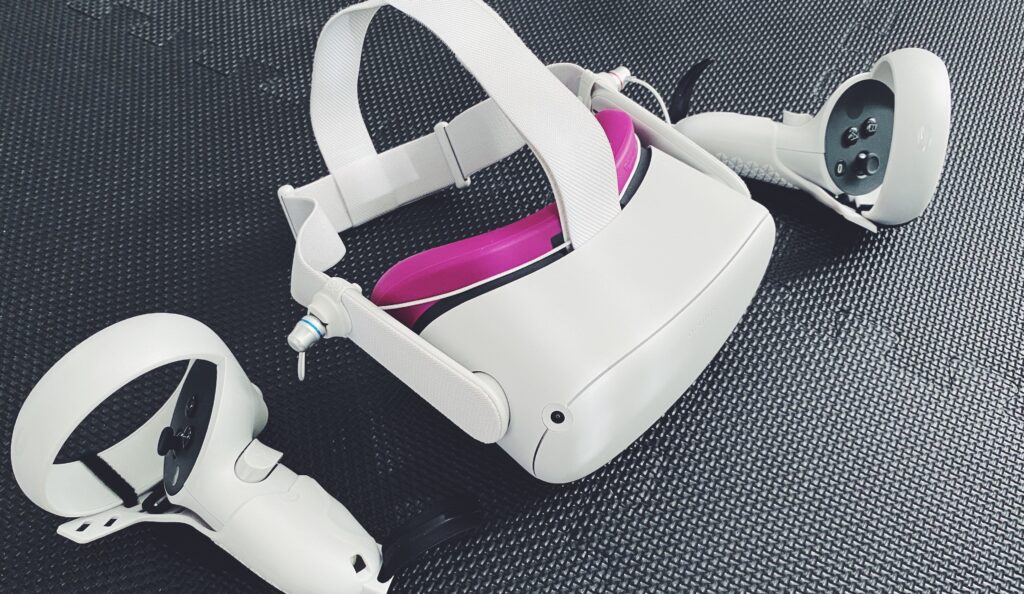 GOOD TO KNOWS:
Oculus requires you to sing up with your Facebook account. It is not a deal-breaker for me, but good to know if you are concerned about data Facebook would collect through Oculus.
Quest 2 has an overall improved design. First of all, it is a bit smaller and lighter than the previous version. These few cm and grams may not look like much, but one could really feel the difference. Adjustable straps are made of fabric and velcro, which also feels better on the head. I also like its sleek form and colour, white instead of black.
Big improvements on the display side, compared to the first Oculus. Quest 2 has 50% more pixels for sharper, smoother graphics.
Built-in speakers deliver great quality 3D positional audio, but because of a home office and overall even better sound, I recommend getting a pair of custom-length wired headphones. Check the "Accessories" paragraph for more info.
Time flies once you are in virtual reality! :) As for the battery, it would last approximately two hours of a non-stop playing session.
Finally, price-wise Oculus Quest 2 is available in Switzerland at CHF 399.00 for 64 GB memory and CHF 499.00 for 256 GB.
FEATURES:
Touch controllers now have an up-to-date hand tracking feature. Not essential, of course, and not many games support it at the moment, but defiantly fun to play within the main menu. :)
Processing power: 6 GB RAM combined with the new Qualcomm® Snapdragon™ XR2 platform.
You can also connect your compatible gaming PC to the Oculus Quest 2 headset trough Oculus Link, 5 meters a high-speed, fibre-optic cable. However, the cable is not included when you buy the headset and would cost around CHF 90.00 extra.
Another adaptable feature is interpupillary distance. By manually moving lenses in three different positions, you can adjust the focus to your needs. Furthermore, if you wear glasses, you can also get yourself a pair of numeric lenses for the inside of the headset.
Last but not least, the Pass-through feature. Probably one of my favourite settings for the inside of VR. This experimental set up allows you temporarily step outside VR to see the place around you without removing the headset. However, it is not a default setting. You can enable the Pass-through in the Experiments section of your settings. Then you can double-tap the side of your headset to go out and the same way to go into VR.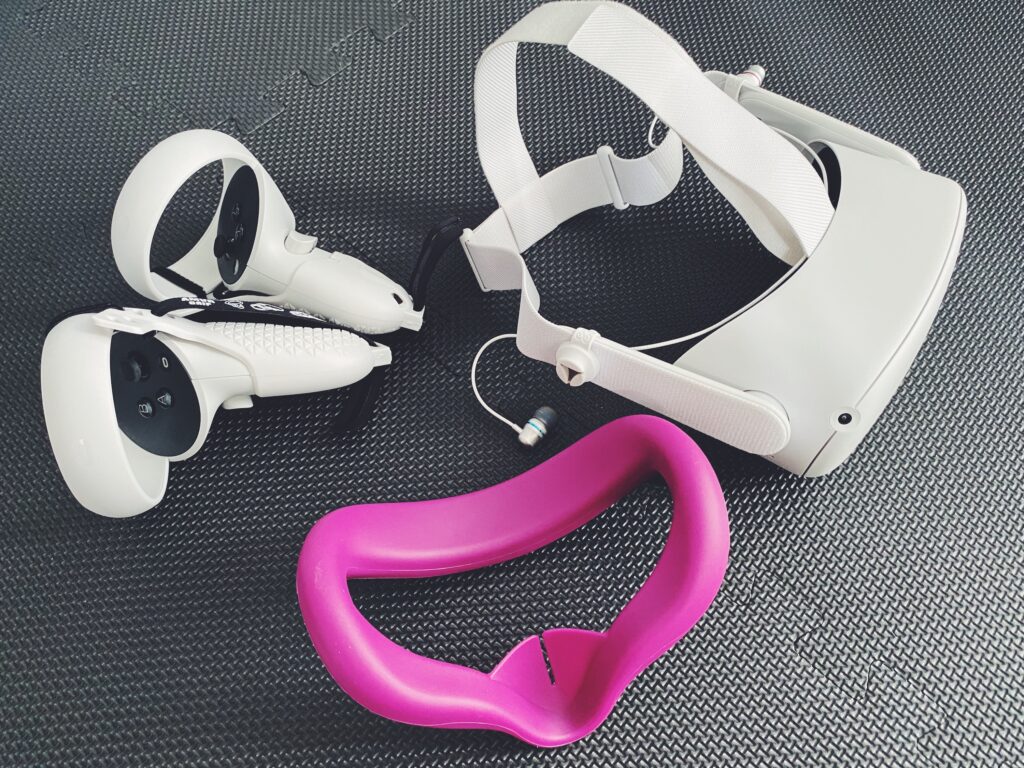 ACCESSORIES & MUST-HAVES:
Firstly, the Silicone Cover for the facial interface. I can't stress enough how convenient it is. This small accessory made my experience with Oculus so much more comfortable. Soft Medical Grade Silicone covers the foam part of the facial interface, protecting it from face oil and sweat. I can easily remove it after each gaming section, wash it with some soapy water, and just let it dry. Also, it is a great hygienic solution in the family where everyone uses the same device. Every family member can have its own cover in their favourite colour. My Silicone Cover is from VR Cover, but you can check other brands that you can find on the internet.
I prefer to use headphones because of a home office situation and overall for a more immersive experience. There are lots of companies that offer a great solution for this. I use custom-length wired headphones from AMVR.
The next must-have is a Touch Controller Grip Cover. It may look not so important initially. But as soon as you are in an action game like boxing, having this secure fix on your hands is necessary. My Grip Covers are also from AMVR.
VR Stand Headset Holder is an extra accessory that just makes it easier to keep your gaming console neat and organised. For someone like me, who is obsessed with organising, it is a must-have. :)
Quest 2 Elite Strap or Quest 2 Elite Strap With Battery. I personally do not have it, as I use my Oculus in shorter time frames. However, many people find it more comfortable using this ergonomic strap that increases balance and support. And the one with the built-in battery doubles the playing time.
Finally, a water bottle. Sounds silly and unnecessary, but believe me, once in the game, you are active, focus and quickly dehydrated. Having an autospout water bottle is a good idea.
The possibilities of VR are endless, and I really enjoy discovering new fascinating opportunities that the virtual world has to offer.
Sometimes I feel like a character from the movie "Ready Player One" – a bit terrified by how realistic it is. However, at the same time, very excited about the world's future with VR technologies.
Have you tried the Oculus Quest 2? How do you like it? Would you enjoy more in-games and explanatory videos? Let me know in the comments below.
Also, if you have any questions, don't hesitate to contact me -> GET IN TOUCH.
BE HEALTHY AND WEALTHY! :)