Aareschlucht (or the Aare Gorge in English) is a mysterious roaring gorge. It is 1400 m long and 200 m deep, but impressively, in some parts, only 1–2 m wide.
For thousands of years, the river Aare has been corroding its way through the limestone, forming the Aare Gorge.
The geology of the place is incredible. The rock and gorge formations took millions of years, including a couple of ice ages and melting periods. Another impressive wonder here, this time manufactured, is the meticulous engineering of the tunnels and bridges. The construction of the path started in 1887, and the walkway has been open to the public since 1889.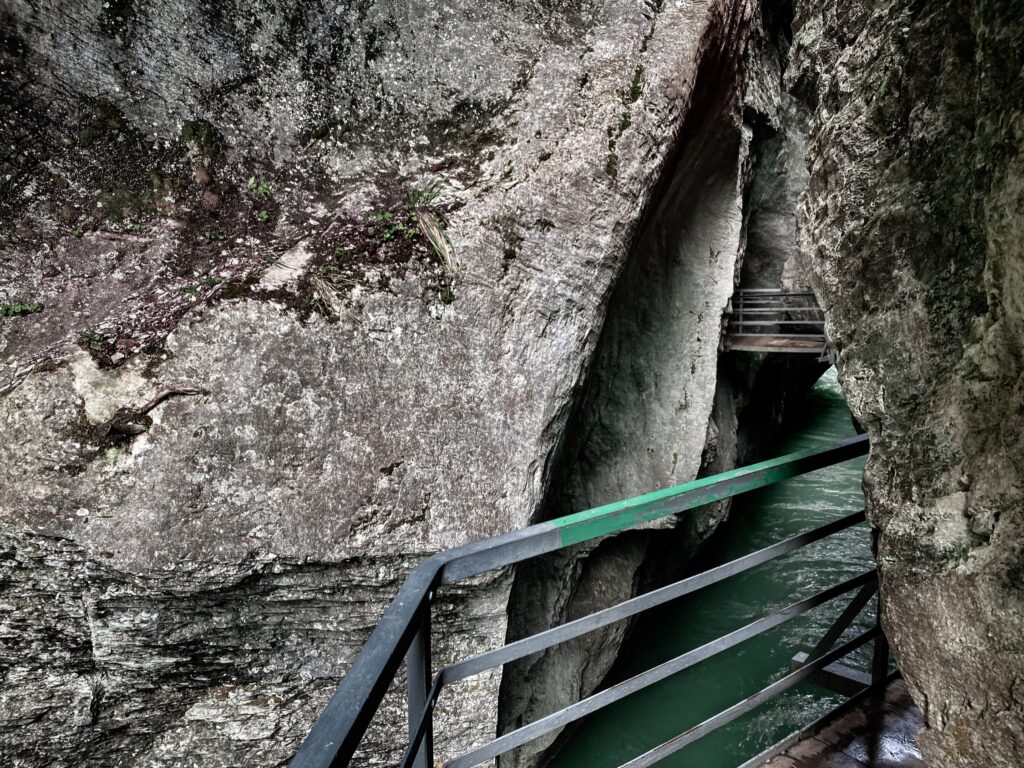 It is an easy yet thrilling walk through the narrow passages between steep rocky walls of "Kirchet" cliffs. It takes around 45 minutes one way. Coming back is possible by train, then the ride would take only a couple of minutes. Or you can also walk back through the same path.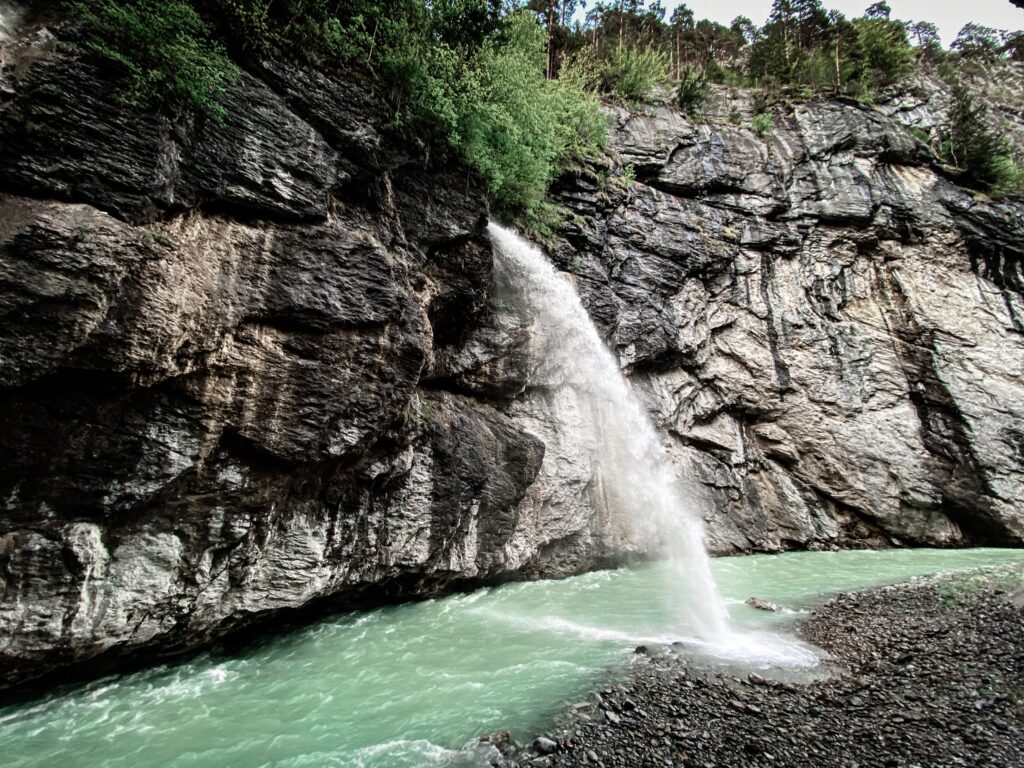 Good to know:
The Aare Gorge is located in the Hasli Valley in the eastern Bernese Oberland.
The gorge has two entrances – Aareschlucht West Entrance (in Meiringen) and Aareschlucht East Entrance (in Innertkirchen).
Getting to the Aareschlucht West Entrance:

By train: Zurich HB – Luzern – Meiringen, Bahnhof. Then a bus #164 direction Schwarzwaldalp until Wiligen, Dorf. The road would take around 2 h 30 min.
By car: the road would take approximately 1 h 30 min. You can check the road map below.
There are parking spaces at the Aareschlucht West car park, free of charge.
Opening Hours:

02.04 – 11.06.2021 8:30 am to 5:30 pm
12.06 – 12.09.2021 8:30 am to 6:30 pm
13.09 – 01.11.2021 8:30 am to 5:30 pm.

Evening opening hours: Fridays and Saturdays between July and August, from 6:30 pm to 10 pm (access from the west entrance)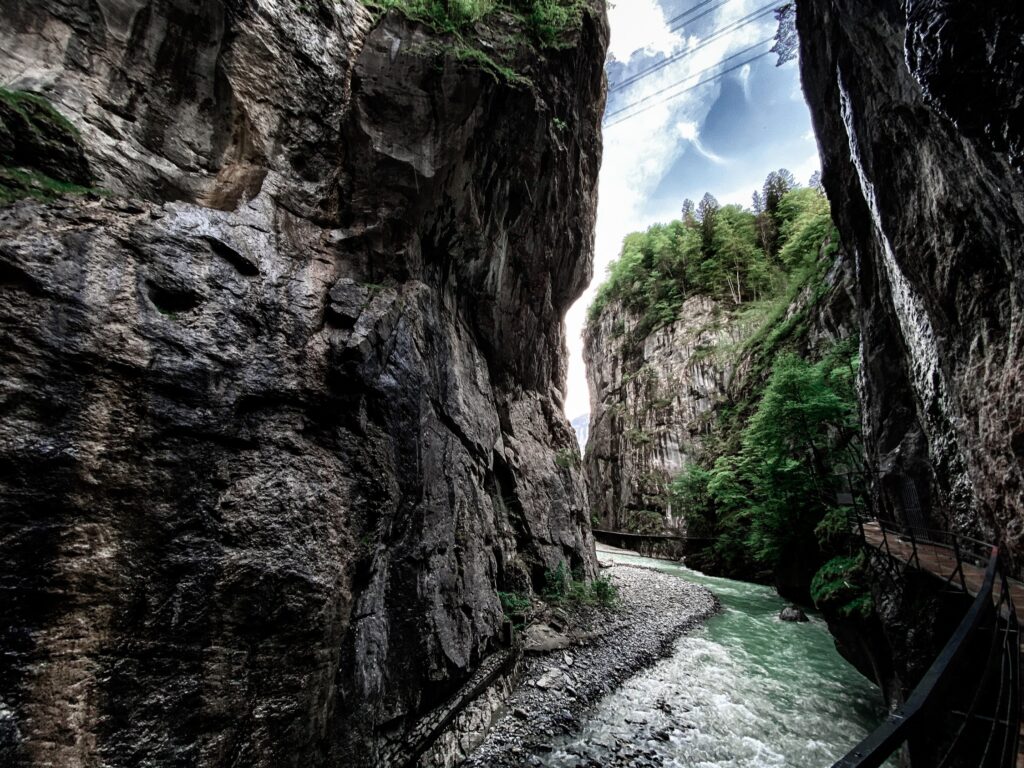 You can combine your visit to the gorge with the world-famous Reichenbach Falls, which Sir Arthur Conan Doyle chose for an epic battle between Sherlock Holmes and Professor Moriarty.
Prices:

Adults – CHF 10.00
Children (6 – 16 years) – CHF 6.00
Children under 6 years – free
Check the official website for discounts and special offers, including combined tickets with a visit to Reichenbach Falls.

It is wet and cool in the tunnels, so it is a good idea to wear proper waterproof shoes (or hiking shoes) and maybe even have a light jacket with you.
Do not forget about protection during these challenging pandemic times: face mask, maintaining distance and other measures recommended by the Federal Office of Public Health.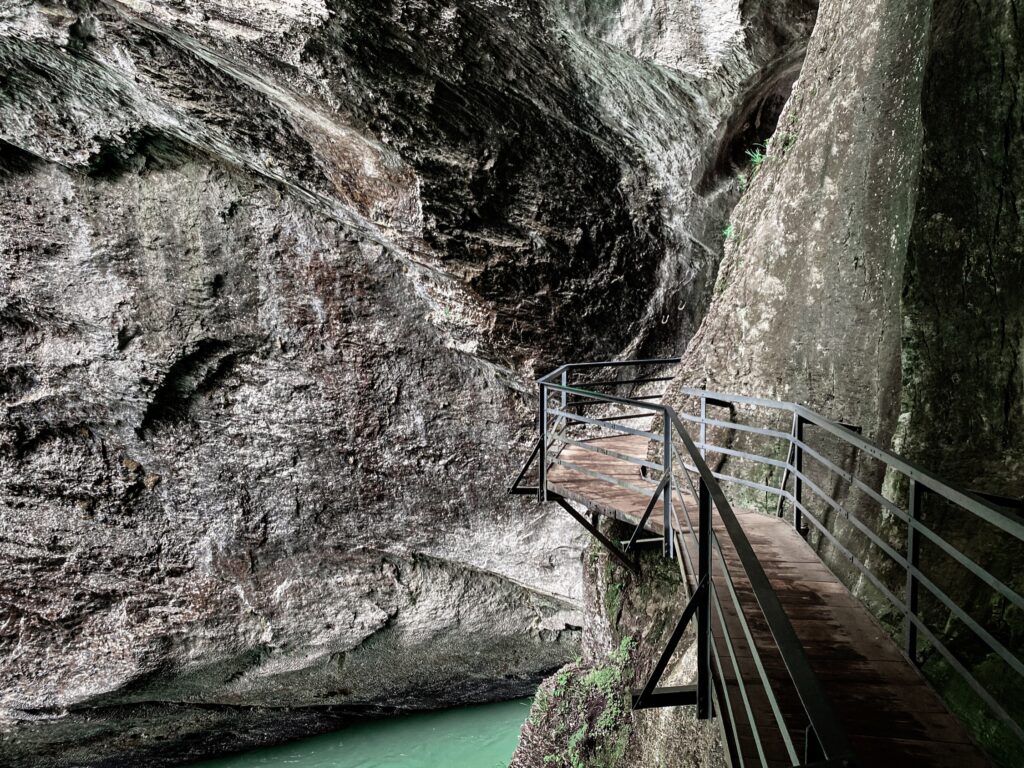 The fresh, cooling feeling in the tunnels makes this natural marvel a perfect hideaway during hot summer days. However, it is also very dramatic during rain.
Wandering through the canyon felt like being in one of the Pirates of the Caribbean movies. :) The splashing water on the rocks, waterfalls and roaring eco in the tunnels add some extra mysterious atmosphere.
Formed for thousands of years by the Aare Glacier, this impressive, mysterious gorge is one of Switzerland's must-visit places.
Subscribe to our newsletter not to miss an upcoming article about travelling to the Reichenbach Falls.
Finally, If you have any questions, don't hesitate to contact us – GET IN TOUCH.
BE HEALTHY AND WEALTHY! :)