Riffelalp Resort 2222m is an exquisite 5-star hotel, hidden among the mountains, alpine meadows and sparkling streams, with tremendous views over the Matterhorn. It is a perfect vacation destination to slow down, unwind and recharge.
1. Arrival Is An Exciting, Memorable Experience On Its Own.
The resort is located at an altitude of 2222 m. It is among the few hotels in the world that are completely unreachable by car. Journey to this hidden alpine oasis takes time, and, in this case, it actually feels right. While travelling through breathtaking sceneries of the Alps, charming villages and chalets, you slowly let go of the city's buzz and fuzz, getting ready to absorb nature's peaceful energy and regenerate.
Good to know:
Getting there: the best stress-free way to reach the hotel is by train. Thanks to Switzerland's impressive train system, it is very comfortable to travel from anywhere, including airports and bus stations.
You can always find all the schedules, connections, and special offers for the train tickets on the SBB official website.
Firstly, you are reaching the beautiful town of Zermatt, which is, by the way, is also a car-free zone. Then by a twirling Gornergrat mountain railway to Riffelalp. And finally, a ride on a snowmobile in winter, or Europe's highest and shortest tram line in summer.
2. High Altitude Wellness Experience & Europe's Highest Outdoor Pool.
The charming chalet-style exterior harmoniously flows into the sensible alpine interior. It reflects the history of the place and its unity with the surrounded nature. Cute full-size sheep, antique accessories and modern art, all thoughtfully placed together, creating a cohesive rustic yet stylish interior.
All the rooms designed with soft colours, natural materials and warm oak details. In addition, most of them have a balcony with an incredible view over the Matterhorn.
One of the biggest highlights of the resort is Europe´s highest heated outdoor pool
Full-spectrum of relaxation also includes an Indoor Swimming Pool, Finnish Sauna, Steam Bath, Schönbiel Cave, Chriiter-Grotta, Relaxation Room and Mini Fitness. As well as a wide choice of body treatments for comprehensive rejuvenation.
Good food is a big part of the recreation process. In Summer, the Riffelalp Resort offers excellent culinary delights at its two restaurants. The Alexandre serves seasonal regional and Mediterranean dishes. And Ristorante Al Bosco is famous for its Swiss-Italian recipes.
3. Unique Microclimate Makes Riffelalp Resort 2222M A Great Health-improving Destination.
Riffelalp has been welcoming guests since the 19th century. The resort has a one-of-a-kind combination of thin fresh mountain air, fragrant pine forest, alpine meadows, crystal streams and sunshine. All this creates a unique, mild, health-beneficial microclimate. It is perfect for improving well-being in general or target specific conditions.
To name a few, the fresh air helps with breathing for those with respiratory problems. Being closer to the sun means increasing serotonin (a happiness hormone) and vitamin D production. Furthermore, the pine smell effective against stress, anxiety and depression. Finally, some light physical activities improve metabolism and the cardiovascular system.
During these challenging PANDEMIC times, it is a great place for recovering from the consequences of COVID-19. Both physical and emotional
4. Focus On An Active Lifestyle
The hotel offers numerous sports activities all year long. In winter, the Riffelalp Resort is in the middle of the world-famous Zermatt area. The hotel offers ski-in, ski-out access to an impressive 360 km of slopes.
In summer, however, there are so many nice hiking trails, including stunning walks around Riffelsee and Five Lakes Walk. The hotel's certified ski instructor and mountain guide, Yann, takes guests on guided day trips. From easy hikes to rock-climbing of a peak of 4000 m.
For those looking for a more thrilling experience, there are also plenty of trails for mountain biking.
Located in the middle of the Gornergrat mountain railway, the Riffelalp Resort offers a great opportunity to discover the charming town of Zermatt. It is only a short 20 min train ride down, with trains running until as late as 11.30 pm. On the other hand, you can take a ride up to the Gornergrat. You can enjoy a breathtaking panorama over more than 30 summits, the glacier and the Matterhorn from the top.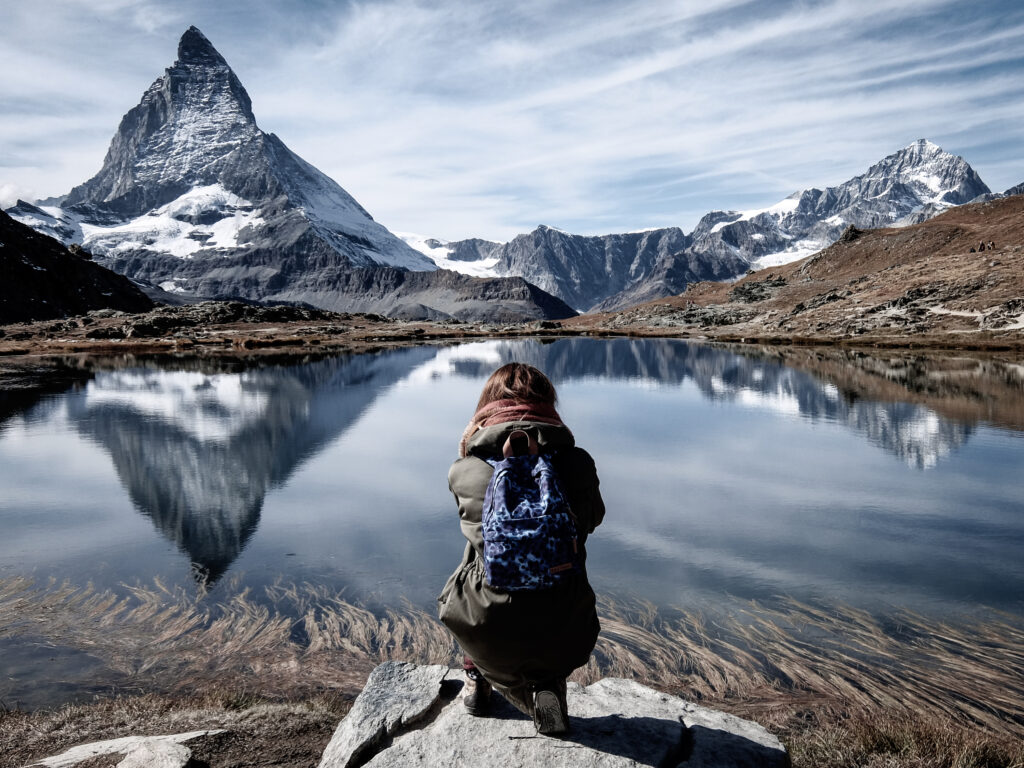 LOOK INTO THE NIGHT SKY. On the CLEAR night, THE Riffelalp Resort TURNS from a 5-STAR HOTEL INTO A MILLION-STAR HOTEL — THE BREATHTAKING EXPERIENCE OF APPRECIATION AND INNER PEACE
5. Family-Friendly Retreat That Takes Care Of Every Family Member.
The Riffelalp Resort is a truly family-friendly retreat. There are plenty of activities for kids of different ages. In winter, there is a kindergarten in the hotel and a children's ski school close by at Riffelberg.
In summer, on the other hand, kids would definitely enjoy an outdoor playground with a trampoline and slide.
Finally, all year round, young guests can enjoy a game room with tabletop football, table tennis and Playstation. And the whole family can even make a family tournament on the hotel's own bowling alley, billiard table or chess.
The resort also is pet-friendly! :) You can check the availability and offers on the hotel's official website.
It is impossible not to fall in love with the Riffelalp Resort 2222m. All nature's elements come together in complete harmony here. It helps to distance yourself from the city's noise, focus on being present, absorb this peaceful energy, and recharge!
I can't wait to be back during the winter holidays!
Finally, if you have any questions, don't hesitate to contact us -> GET IN TOUCH.
Be healthy and wealthy!